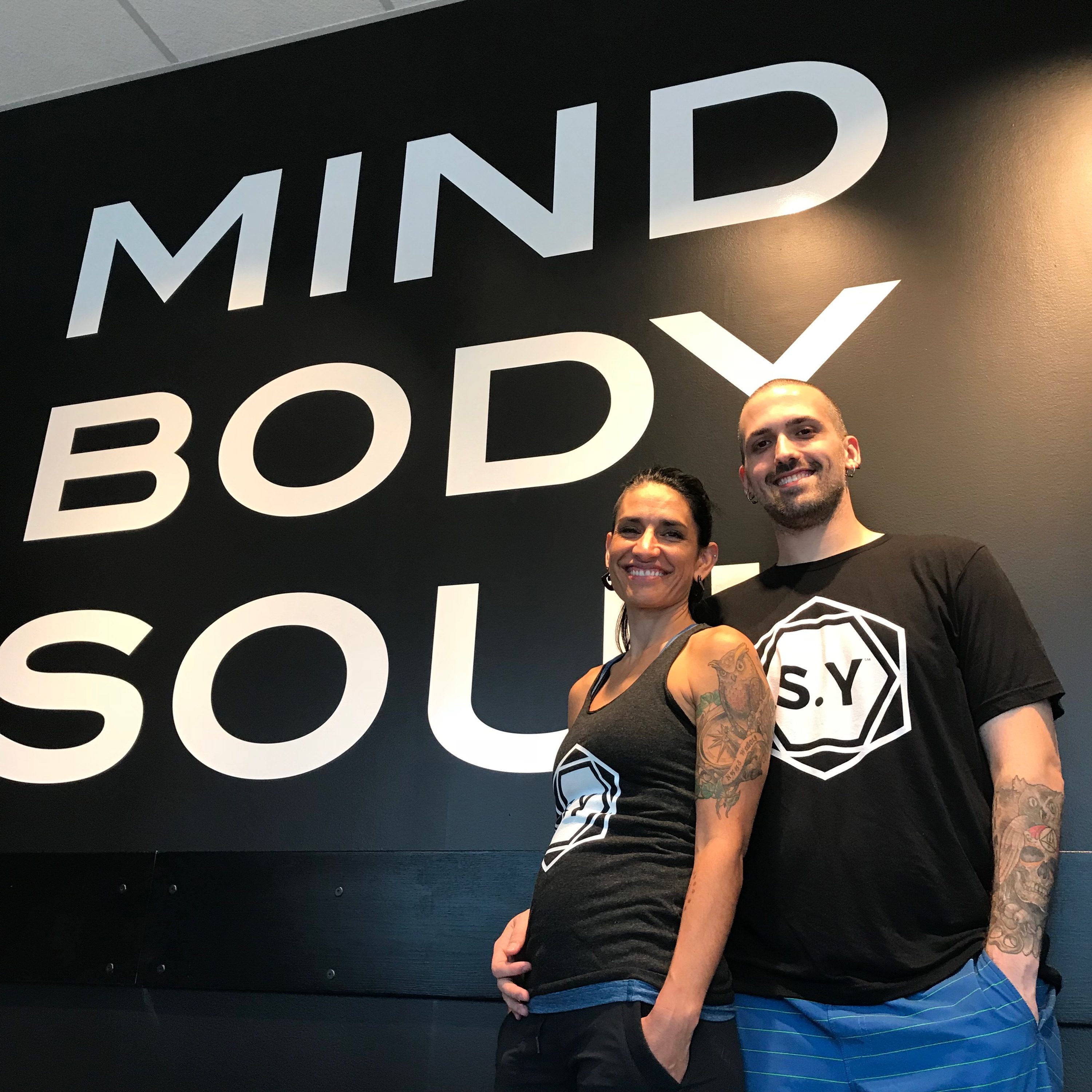 20 Oct

Calling all Yogis! Syndicate.Yoga with Nick & Mindy Bez is here! Come and try it!

Hey Halo Fam,

Do you like yoga? Have you tried it? Are you permanently stuck in a state of Yoga Bliss? Well, I have an exciting bit of news for you all. Nick Bez and Mindy Luv, Co-conspirators & catalysts of community have joined forces with the fitness experts at TIGERFIT to bring you a full slate of yoga classes!  We have combined the endorphin release happiness of wholebody cryotherapy with the yoga bliss to create the most amazing experience in the twin cities.

Who is Syndicate. Yoga? What makes them so awesome? That is what I want to talk here about today.  Nick Bez & Mindy Luv, a power yoga duo.  They know their stuff, they love yoga and sharing it with others, but the energy they put off is and the care they have for their community is what differentiates them from other yogis I have come across.

Nick Bez brings with him 500 hour Experienced Registered Yoga Teacher (ERYT-500) training, as well as some seriously awesome energy and music to his yoga practice as he tries to shatter the myth that yoga is solely meditative.  Nick shares the belief with Bhagavad Gita that yoga is "the journey of the self, through the self."  His energy and positivity are contagious.  The way that he uses yoga to connect people, of all walks of life to challenge themselves one breath at a time is empowering.  Join him for a class, whether he is teaching or practicing alongside you, say hi and try some cryotherapy with him!

Mindy Luv Bez, you will recognize her as the one always smiling and saying nice things to everyone around her.  Her positive energy carries over from her yoga bliss to her everyday life.  She came into yoga in 2005, and is now a co-founder of Syndicate.Yoga.  She graduated from Corepower Yoga's 200 hour yoga teacher training, Lifepower Yoga's 200 & 300 hour teacher training and has now led teacher trainings and workshops.  She is a self proclaimed moon child, and truly embraces life as a yogi, mother, wife, and friend.

These two have brought a lot to our team of partners at TigerFit. They are so great at bringing a team together working towards a common goal. In my yoga practice, which is somewhat limited, I truly feel that the energy of the instructors can completely alter my experience.  The approach they have to their community is unlike any other, and so inclusive and inviting.  The goal they have for every student that comes through our doors is to get the feeling of empowerment, of stepping out of their comfort zone.  Like jumping out of an airplane and facing your fears in order to feel the rush and excitement, achievement of building your own practice one breath at a time.
What types of classes do they have?
[SY.BASE]
Relies on foundational and steady cuing, delivered at a deliberate pace to establish itself as a great place to begin or get back to basics! Don't be a fool though, SY.BASE isn't just for those new to SYNDICATE, its a place experienced go to reset and tune-up the foundation of their physical practice too.
[SY.FLOW]
inspires and strengthens students through vibrant and vigorous vinyasa yoga flows, powerful and at times energetic music, and messaging set in a heated studio.
(temp. 90-95º / humidity 15-20%)
[SY.TONE]
is a dynamic exploration of body and breath that fuses strength based athletic and vinyasa yoga movements and sequencing into each other to create a powerfully stimulating flow, resulting in more functional strength and endurance. (temp. 90º / humidity 10-15%)
[SY.RESTORE]
is a Yin Yoga experience that offers a deep and healing journey into static, grounding yoga postures by allowing for powerful exploration or muscle fascia and connective tissues over the duration of extended holds in each posture. (temp. 80º / humidity 0%)
[SY.KARMA]
[monthly] provides a unique opportunity to support a different community organization each month through a donation based* SY.FLOW.  SYNDICATE.YOGA at TIGERFIT covers all class related expenses each week so that 100% of the funds donated go directly to the organization being recognized and supported.  (temp. 90-95º / humidity 15-20%)*donations are not required for attendance but are gratefully accepted at the studio
[SY.FILTHY BEATS]
[monthly] is a SY.FLOW experience that simply put, bumps.  this 75 minute experience is built on a bass line of uncensored music and musings, it's part nightclub, part new age, and entirely what you need. (temp. 90-95º / humidity 15-20%)
If you like, love, experiment, or dabble with yoga, don't be crazy.  Come try a class here at Syndicate.Yoga @ Tigerfit. Check out their website here https://syndicate.yoga/ or call us at Tigerfit 952-595-5915 with any questions.  If you are lucky enough to have taken classes with Nick and Mindy before and want to take your Yoga practice to the next level, they are offering SY.TT Syndicate Teacher Training! More information can be found on the website or on your mat in our studio.  We cant wait to see you!
Halo News & Updates
Book your group or team recovery sessions with us! Call us to reserve your space and give your team an edge on the competition. We can accommodate large groups, and
Interested in taking your team recovery to the next level?  Chris Clark from TigerFit and Jack Younggren from Halo are offering an Athletic Recovery program featuring foam rolling, myofascial release, muscle activation, injury prevention, & whole body cryotherapy.  Call us to talk about pricing and to schedule your team recovery program!