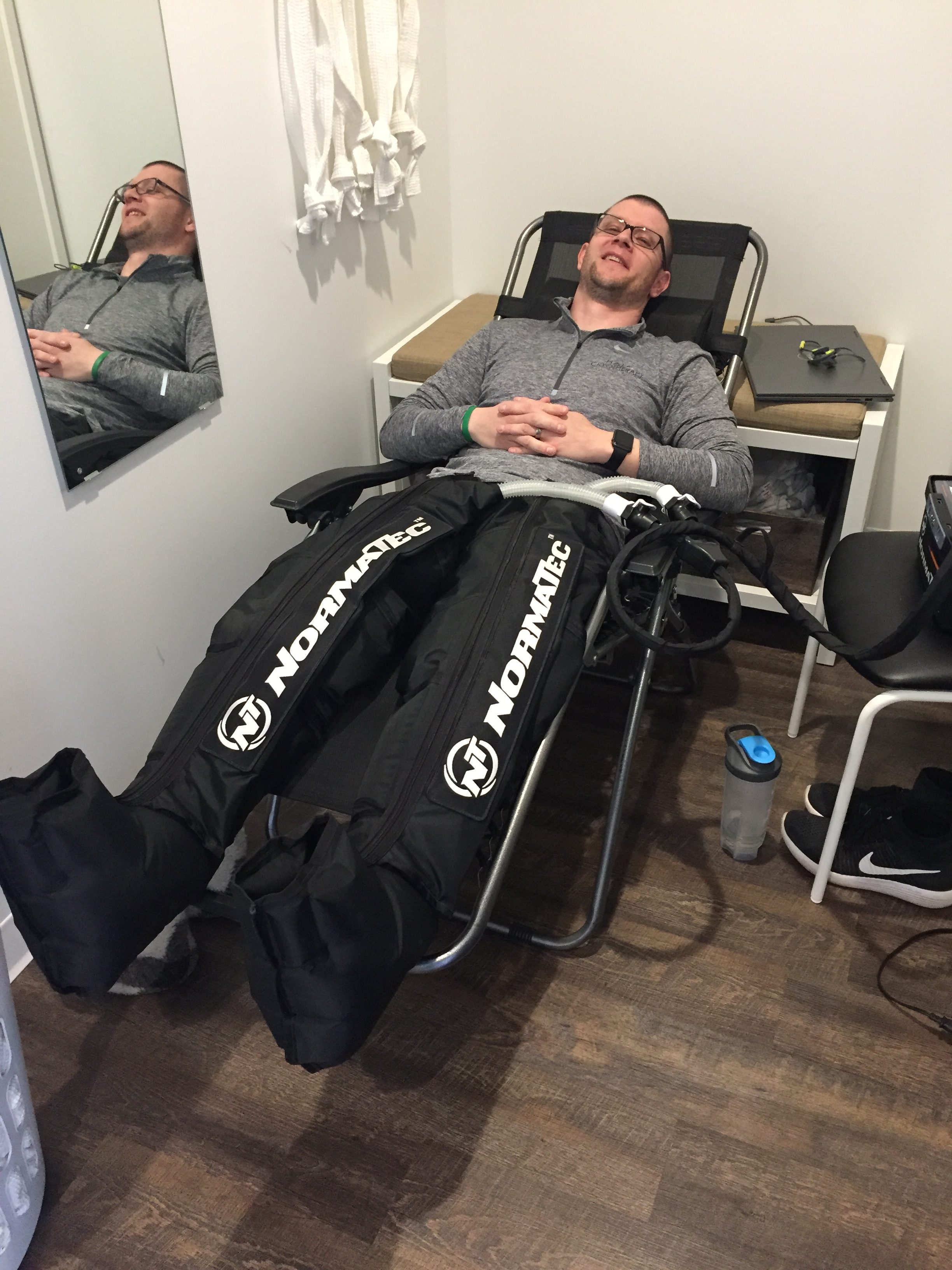 28 Jul

Compression Therapy- Boost your Recovery with NormaTec Recovery Systems

Hey Everybody!

Have you heard about compression therapy? Most people have either had to use an ACE bandage on an ankle injury or wear compression socks for running at some point. We see athletes wearing compression gear basically everywhere nowadays.   For a long time, compression and ice were the go to for any injury that caused swelling and discomfort.  We are SOOOOO lucky nowadays to have the abundance of technology and knowledge about how to get the most out of our bodies, as well as recover faster from injury and athletic training.  One of those tools for recovery we use at Halo Cryotherapy is a NormaTec Pulse Recovery compression massage.  So many professional franchises, universities, and training facilities are using these to help athletes with reducing DOMS (Delayed Onset Muscle Soreness).
I want to share my experience with you about how I used this during my marathon training about two years ago, because I always feel that personal experience always helps more than website list of benefits.  First of all, I was never much of a runner.  I was raised in a football family and my training consisted of explosive movements 4 seconds at a time with 25 seconds of rest.  I was a sprinter in track, and thought distance runners were crazy.  All that being said, as an adult with multiple kids I learned to enjoy the release and meditation I found in a good run.  26.2 miles is not what I consider a "good run" however.  I received an email with an opportunity to run the LA Marathon for St. Judes Childrens Hospital, and I took it.  I thought it was a great chance to help a great cause, go to sunny California, and get into better shape all at the same time.  So That's how the marathon training came about…

I loaded up on gear.  Gu packets, water bottles, winter running tights, shoes, anything that I thought would help came home with me.  I followed a training plan, running 3 shorter pace runs during the week followed by one slower and longer run that would build one mile at a time every Saturday.  I was working in a Cryotherapy facility, so my DOMS were pretty subtle early on. The mental aspect of the running  was the hardest early on for me, as my mind would tell me I was done far before my body.   As the miles began to pile up, my legs started to feel like heavy sand bag tubes.  I was taking runs off, hoping that it would bring my legs back.  It didn't quite do the trick, so I tried using the NormaTec Compression Therapy boots.  I would use the boots on my long run Saturdays, and I can truly tell you that it was THE game changer in my training.  I could barely get up the stairs after my long run days, and when I would use the NormaTec system for 30 minutes followed by whole body cryotherapy I could go run again!

After I started using NormaTec compression to bring my legs back from death, my training went smoothly.  I had less off days, and was able to improve my pace and distance as the training plan stated.  I got up to 22 miles on my last training run, and off to LA I went.  I wasn't quite ready for 93 degree weather on race day after training in the Minnesota winter weather, but I was so proud to wear my St. Jude's race tank and fulfill my commitment to run 26.2 miles to honor the donations that were given throughout my training.
I have continued to use these tools now, whether I'm recovering from OrangeTheory Fitness classes or Load & Carry at TigerFit, the squeeze & Freeze combination of NormaTec Compression and Cryotherapy has been a game changer for me.  I don't have heavy legs that keep me from training on any given day.  Less excuses, more improvement.
Now that I shared my experience, I want to touch a bit on the science behind the compression system offered by NormaTec.  Their website, Linked here, has a great explanation of how it works and why that I just want to touch on.  I am going to quote directly from their site for highlights of the science behind their product.
In the diagram shown, the boots have 5 total chambers or zones.  As the compression begins at the foot and ankle, it starts with a sequential pulse for a more dynamic compression.  As it fills with air, that zone holds compression.  This is important to help with lymphatic drainage and bloodflow, but by holding compression it prevents backflow of those fluids.
We have had many clients who are recovering from knee replacements use our compression therapy to help mobilize fluid that gathers in the lower leg and knee.  It has shown great results in getting that fluid out of the area, but also shows over time that the fluid does not return as it had before.  Any type of immobilized fluid, such as adema, can see improvement with NormaTec Therapy.
Call our office or visit our website here to book your 30 minute NormaTec session for $25, or just $15 when added on to a cryotherapy service.
News @ Halo this week-
Construction on our exciting new Halo Cryotherapy with TigerFit and Reneu Sport & Health PT is going so FAST! follow @betigerfit or @halocryo on Instagram to see construction updates and sneak peaks!
Natalie from Reneu Sport & Health is AMAZING! We are so excited to team with her and bring our services to her clients and vice versa! follow her on Instagram or visit her website here to learn more about the awesome work she does to make us feel and BE better! You
Call us to inquire about team rates for your high school or college teams! We would love to help your team recover!